ISA Celebrates Book Week 2020
Book Week is a much-loved event that takes place each autumn at ISA. The annual celebration of reading aims to inspire students and cultivate their curiosity by allowing them to discover new books and authors and explore new ideas and concepts through reading. The theme of Book Week 2020 was Reading Makes Us Stronger, an apt message in the year of the pandemic, and this year, we did things a little differently, with our visiting authors joining classes virtually.
Book Week Activities in Lower School
Throughout the week, Lower School students engaged in a host of reading activities, organised by our fantastic librarians. Early Childhood students took off on an adventure of the imagination in the Read Cave Journeys whilst Lower School students had the opportunity to escape to their own world in the Reading Tents which are set up in the library, giving them a calm moment of reading and reflection to enjoy.
Each day, students had the opportunity to listen to a reading from a masked reader, as well as take part in the Drop Everything and Read (DEAR) and an Extreme Readers photo challenge. The week culminated with the exciting annual Character Dress Up Parade, where students had the chance to dress up as their favourite book characters, and the masked readers revealed themselves!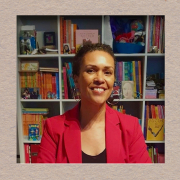 Mylo Freeman
Lower School was thrilled to welcome Dutch author and illustrator Mylo Freeman to grade 1 and 2 classes, whose new picture book Tweeling! is the Prentenboek for Kinderboekenweek in the Netherlands this year. An advocate for diversity in children's publishing, and prolific author of around  50 picture books, Freeman is best known for her 12-part Princess Arabella series, now also a puppet series, an app and a play, to show that Black girls can be princesses, too. Freeman also leads workshops, gives readings and appears in musical performances.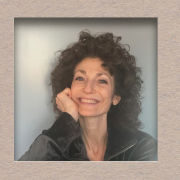 Hollis Kurman
ISA Parent and visiting author Hollis Kurman joined PK, K and Grade 3 classes, where she read from her début picture book Counting Kindness: Ten Ways to Welcome Refugee Children. Kurman is an active member of Society of Children's Book Writers and Illustrators (SCBWI) and contributing Editor on the Board of Barrow Street Books. According to Kurman, Counting Kindness 'traces the refugee child's journey through the lens of help and hope experienced along the way' and will be published in eight countries.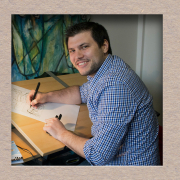 Matt Smith
We also welcomed Matt Smith, a Canadian/British cartoonist, filmmaker and educator who has taken his comics workshops to schools, comic conventions and art galleries in North America, Europe, Asia and Africa. Smith presented assemblies for Grade 7, Grade 8 EAL, Grade 9 and Grade 10 via students' English classes. Smith also held a workshop for Grade 4 called Let's Draw Some Comics! Students had the opportunity to, according to Smith, 'create expressive characters, show movement and draw sound; everything you need to know to create your first comic story'.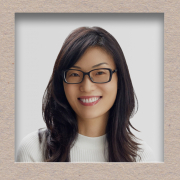 Kelly Yang
Kelly Yang is the New York Times bestselling author of Front Desk, Parachutes, and Three Keys. Front Desk is Yang's award-winning middle-grade debut novel about a 10-year-old Chinese-American immigrant girl who manages the front desk of a motel while her parents clean the rooms. Front Desk was awarded the 2019 Asian Pacific American Award for Literature, the Parents' Choice Gold Medal and numerous other honours. ISA was thrilled for Yang to share her inspiring 'Dream Big' Author Virtual Visit writing video with grades 5-10 classes.
ISA believes in the power of reflection and inquiry and support students on their individual journeys to self-discovery by sharing experiences and ideas from diverse perspectives and giving context to all that we learn, inside and outside of the classroom environment. Book Week at ISA is not just a celebration of books; it is the cultivation of a lifelong love of reading, learning and discovery in students, a means by which they can explore new thoughts, ideas and concepts, discover new passions and be inspired.
We would like to thank our amazing librarians and all of our visiting authors for making Book Week 2020 a celebration to remember!