Community Service
Creativity, Activity & Service (DP) / Service as Action (MP)
DP CAS
CAS Programme Aims
enjoy and find significance in a range of CAS experiences
purposefully reflect upon their experiences
identify goals, develop strategies and determine further actions for personal growth
explore new possibilities, embrace new challenges and adapt to new roles
actively participate in planned, sustained, and collaborative CAS projects
understand they are members of local and global communities with responsibilities towards each other and the environment.
CAS formally begins at the start of the Diploma Programme and continues regularly, ideally on a weekly basis, for at least 18 months with a reasonable balance between creativity, activity, and service. "Students engage in CAS experiences involving one or more of the three CAS strands. A CAS experience can be a single event or may be an extended series of events. Further, students undertake a CAS project of at least one month's duration that challenges students to show initiative, demonstrate perseverance, and develop skills such as collaboration, problem-solving, and decision-making. The CAS project can address any single strand of CAS, or combine two or all three strands." (IB DP, CAS Guide 2015)
All CAS students are expected to maintain and complete a CAS portfolio (Managebac at ISA) as evidence of their engagement with CAS.
CAS Strands
Creativity—exploring and extending ideas leading to an original or interpretive product or performance.
Activity—physical exertion contributing to a healthy lifestyle.
Service—collaborative and reciprocal engagement with the community in response to an authentic need.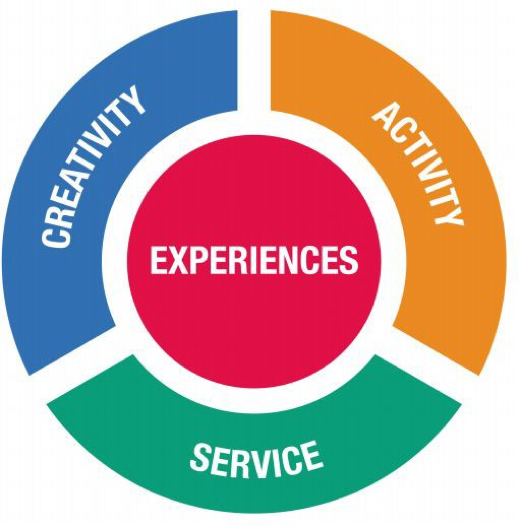 MYP Service as Action
The Service and action program is a part of the MYP core curriculum which engages all students in grades 6 through 10. It encourages learners to be caring members of the community through action and service and teaches students how to take action on issues of importance through the Service learning cycle:
investigation into an issue
preparation for action
taking action
reflection
demonstration
In grades 6-8, students begin to identify their own strengths and areas for growth and learn how they can use their skills and knowledge in service of others. They engage in a variety of school and local community-based service projects, delivered through the homeroom program, and are encouraged to take action and undertake challenges that develop new skills. In grades 9-10, students build upon the fundamental skills established in the first three years of the MYP by persevering in action and committing to longer-term service experiences that are increasingly independent.
They engage more frequently in student-planned initiatives; they collaborate with peers, teachers and community resources, both local and global; they are asked to consider the ethical implications of their actions and develop international-mindedness through global engagement.
ISA CAS Experiences for 2016-17
Amnesty International

Art Club

Arts Festival (Slovenia)

Duke of Edinburgh Award

Booster club

Care Squares

Community Notice Board

Boy/Cub Scouts

Debate team

Doctors without Borders

Dutch Survival Course

Tutoring/ Learning Dutch

EAL Support

Erase Hate

Fair Trade

First Aid/AED/CPR

Girl Scouts

Global Issues Network

Green Team

Habitat for Humanity

Haiti Relief Fund

Upper School Fall Play

Hope and Homes

Gym membership

IT Network Support

Investment Club

Japanese Mother Tongue

Library assistants

Light up Papua New Guinea

Lower School assistant

Math classroom assistant

Math Help Centre

McMillan Cancer Trust

Mindfulness Mondays

Musical Theatre Review

Model United Nations

Nepali Relief Fund

Operation Smile

PAWS

PTA activities

Philippines Relief

Retirement Home concerts

Serve the City

Spanish assistant

Spanish Peer tutor

SOS Kinderdorpen

Sound and Light club

Soup Kitchen

South Africa Football club

Special Olympics

Sports activity assistant

Sports scorers

Sports teams

Student ambassadors

Tanzania Girls

Theatre production assistant

Upper School assistant

Upper School choir

Upper School ensemble

Yearbook

Yoga

WaterAid
Julia Watson
ISA CAS Coordiator
Rachel Bodily
ISA MYP Service as Action Coordinator